Paolo Monella

The distributed scholarly edition

Between text and material culture

Università della Campania 2021
Paolo Monella

L'edizione scientifica digitale distribuita

Tra testo e cultura materiale

Università della Campania 2021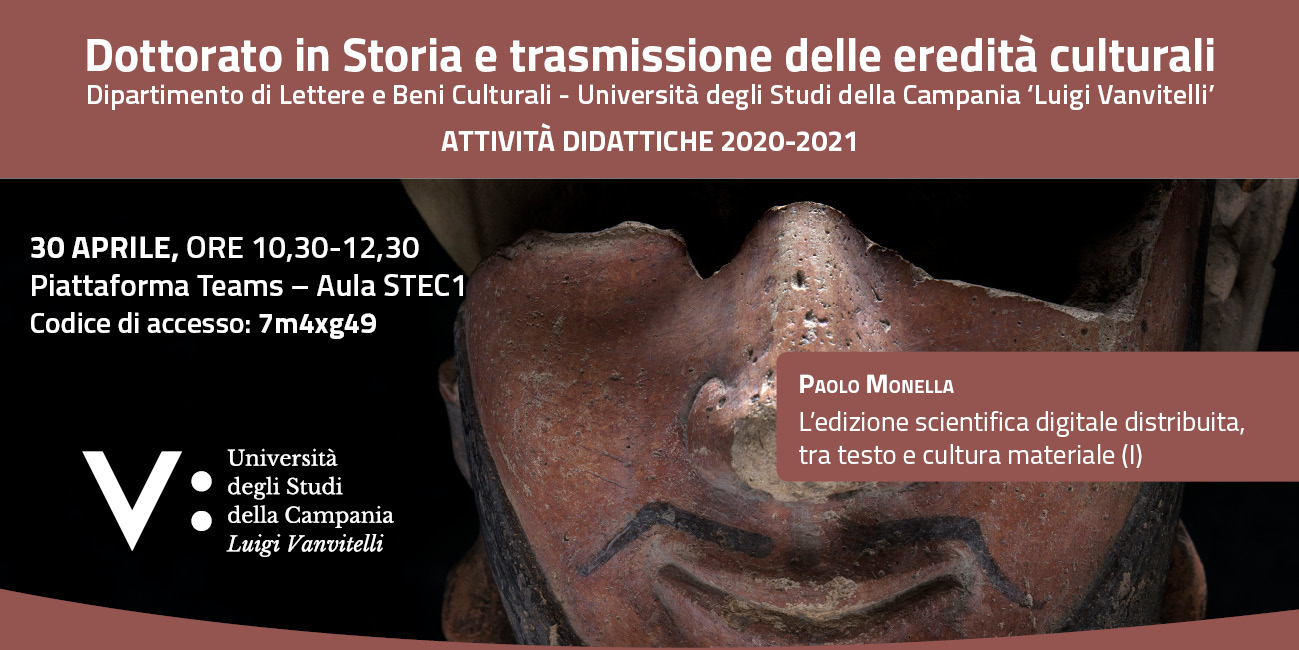 Details
Dettagli
Type
Seminar
How
Online, via Microsoft Teams (see flyer below)
Title
The distributed scholarly edition, between text and material culture
Language
Italian
Date
April 30, 2021
Time
10:30-12:20 CET
Institution
Dipartimento di Lettere e Beni Culturali dell'Università della Campania

Luigi Vanvitelli

Part of
Seminar series on

Memory and its transmission

for the PhD programme in

Storia e trasmissione delle eredità culturali
Tipo
Seminario
Come
Online, su Microsoft Teams (vedi la locandina sotto)
Titolo
L'edizione scientifica digitale distribuita, tra testo e cultura materiale
Lingua
Italiano
Data
30 aprile 2021
Ora
10:30-12:20 CET
Istituzione
Dipartimento di Lettere e Beni Culturali dell'Università della Campania

Luigi Vanvitelli

Parte del
Ciclo di lezioni-seminari su

La memoria e la sua trasmissione

per il dottorato in

Storia e trasmissione delle eredità culturali
Abstract
Abstract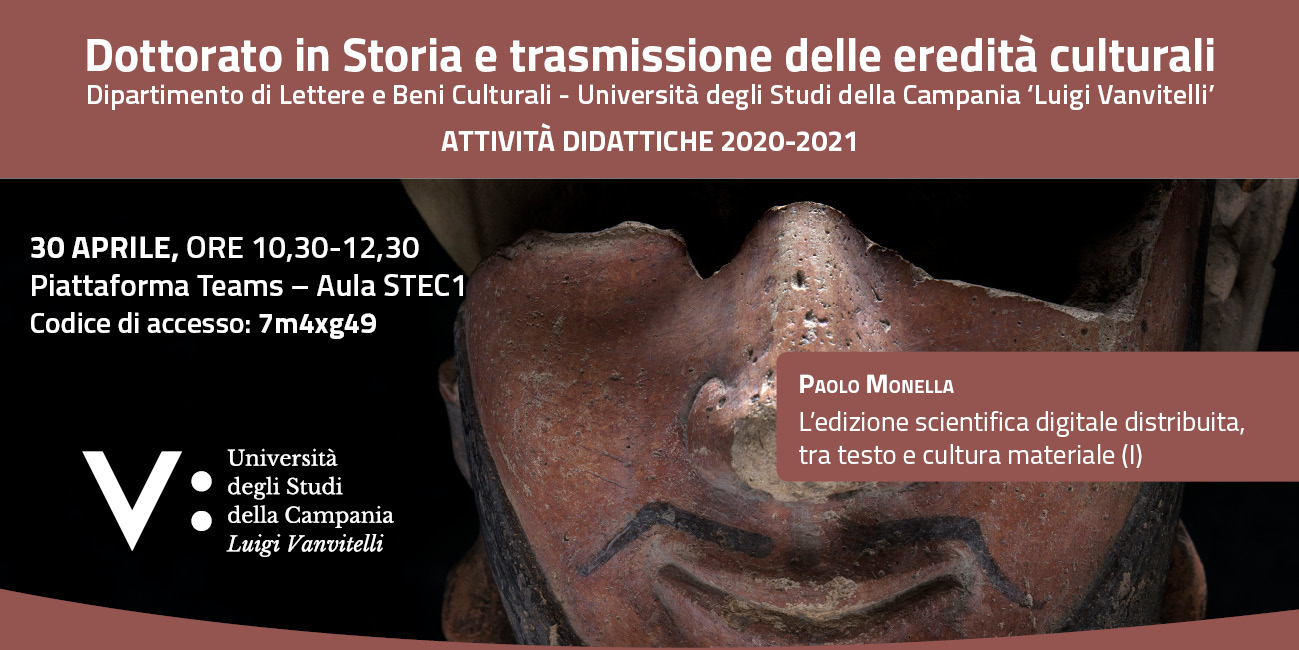 The seminar will introduce the idea of a 'distributed' scholarly digital edition, which includes, in addition to the text:
dynamic links to facsimiles of the source document (manuscript, archeological manuscript with inscription) located in IIIF servers (such as that of the Vatican Library);
connections with information distributed in the Semantic Web (such as geographic coordinates and maps of places drawn from projects such as Pelagios).
Il seminario presenterà l'idea di un'edizione scientifica digitale 'distribuita' che, oltre al testo, comprenda
link dinamici alle immagini del documento (manoscritto, graffito, manufatto archeologico con iscrizione) che si trovino su server IIIF (come ad es. quello della Biblioteca Vaticana);
riferimenti a informazioni distribuite nel Web semantico (ad esempio coordinate geografiche e mappe di luoghi da progetti come Pelagios).
Syllabus and materials
Argomenti e materiali