10.30 pm
Waiting for Irina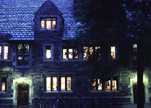 At Princeton train station (damn cold!).
Some bills on a column:

Egg donors

Preferred asian and jewish

Is your dog bored during the day?

Dog walking

Is that a butterfly ballot in your pocket, 

or are you just happy to see me?

Quoted in the bill of a sort of fraternity, for the Princeton triangle club, that proudly presents: Orange and black to the future, Nov. 12-14 at the McCarter theatre.